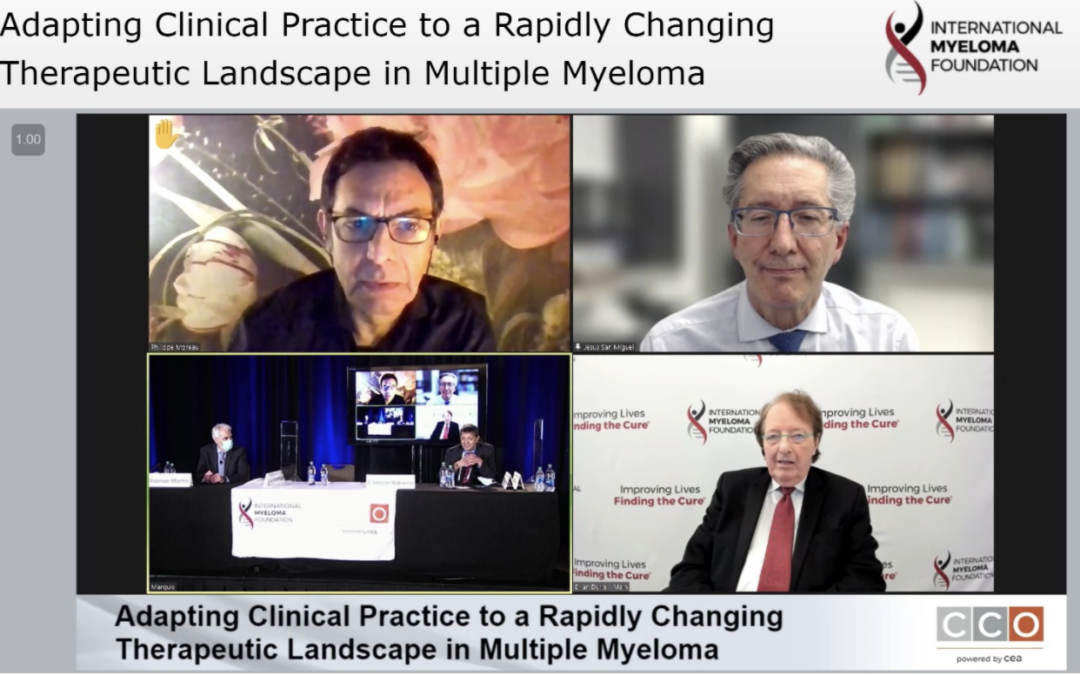 Hybrid Meeting Format  
As with previous years, the International Myeloma Foundation (IMF) held its signature satellite symposium during that 63rd annual meeting of the American Society of Hematology (ASH). It featured Drs. Brian G.M. Durie (IMF Chairman of the Board), S. Vincent Rajkumar (Mayo Clinic — Rochester, MN), Tom Martin (UCSF Helen Diller Family Comprehensive Cancer Center — San Francisco, CA), Jesus San-Miguel (Clinica Universidad de Navarra — Navarra, Spain), Philippe Moreau (University Hospital — Nantes, France). Absent this year was Dr. Shaji Kumar (Mayo Clinic — Rochester, MN).
The symposium flow included a hypothetical case presentation, followed by how you treat questions and audience vote, the speakers' case for why they voted the way they voted, and then audience polling to see if the speakers changed any audience minds.
The case studies and presentations ranged from smoldering myeloma to relapsed/refractory myeloma, approved drugs, drug combinations, and drugs in the pipeline.
I noted on the disclosure slides the only one that did not have ANY disclosures was Dr. S. Vincent Rajkumar. Does it mean the others are conflicted, and you should consider their discussions to be biased? Well, NO! I invite you to read this Twitter thread to see why not.
The significant benefit of treating high-risk SMM patients in myeloma is high, noted Dr. San-Miguel, up to 7 years of progression-free survival (PFS) before the smoldering myeloma progressed to full-blown myeloma. Not only was the progression delayed, but the risk profile post-progression was similar to those on the wait-and-watch approach. Dr. Rajkumar indicated the wait-and-watch experiment has failed for high-risk smoldering myeloma patients.
The speakers noted the features that made SMM high risk (seen below), where the presence of these features indicated an up to 50% chance of progressing to myeloma in two years.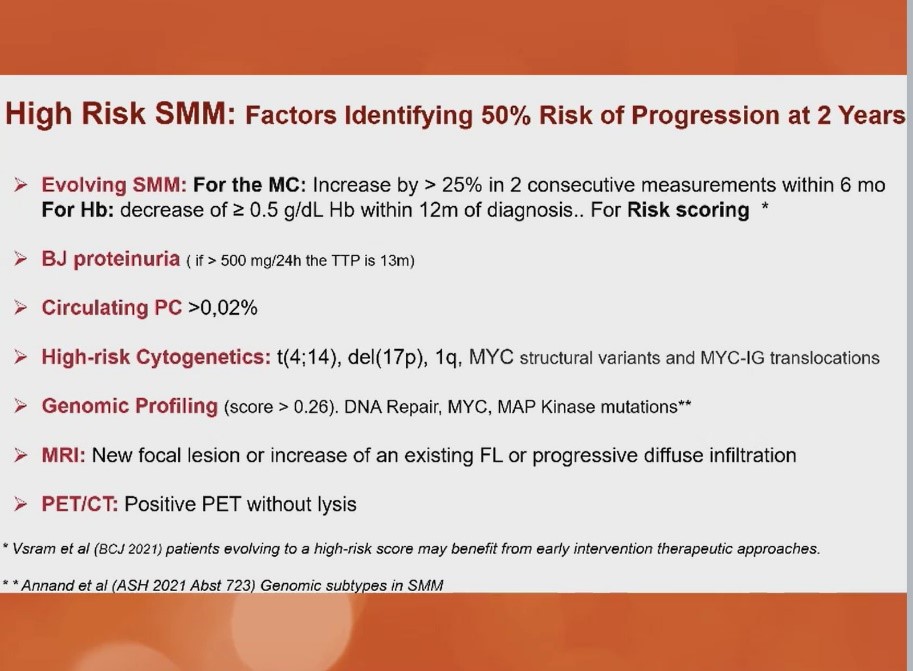 Factors Identifying 50% Risk of Progression at 2 Years
Over the last two years, the researchers consider high-risk indicators have evolved. You may have heard the 2/20/20 model. They are now indicating the potential for the model to evolve to a 2/20/0.02% model allowing for frequent monitoring of the SMM patient and early warning system that the smoldering myeloma will progress to full-blown myeloma. Watch the studies in this area as research has indicated the importance of early intervention pre CRAB.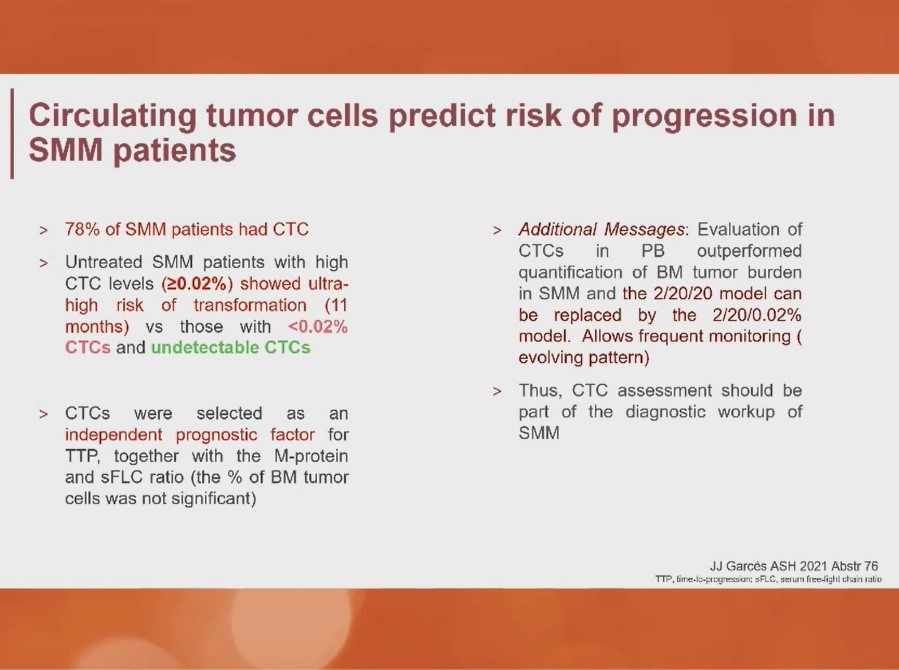 Circulating Tumor Cells Predict Risk of Progress in SMM Patients
Some exciting questions are being asked: Can CAR T replace upfront high-dose autologous stem cell transplant (ASCT)? Dr. Morreau indicated that a clinical trial is in the design phase in Europe.
Dr. Martin's wish list for future bispecific antibodies in relapsed/refractory myeloma included outpatient dosing with low cytokine release syndrome (CRS) and neurological toxicity, convenient administration (every 4, 6, 8 weeks). Dr. Martin had a similar wish list for BCMA CAR T cells, including faster manufacturing, better expansion, dual targeting, and outpatient administration.
One of the highlights of the symposium was that all the bispecific antibodies for relapsed/refractory myeloma have a single drug overall response rate (ORR) of over 50%, some even 80%. This high ORR was unheard of in the chemotherapy era and even in the age of novel drugs such as Velcade® (bortezomib), Revlimid® (lenalidomide), Kyprolis® (carfilzomib), or Darzalex® (daratumumab).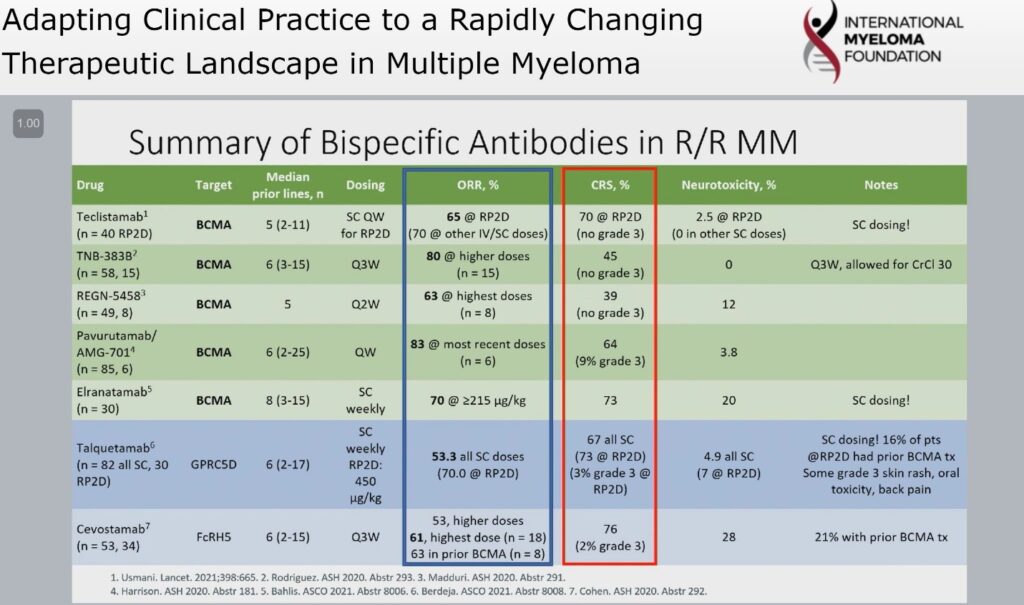 Summary of Bispecific Antibodies in RRMM
Dr. Durie discussed the unmet need of triple-class refractory myeloma patients. Those patients, despite all efforts, their myeloma continue to progress and eventually die. He indicated the issue is even more exasperated with the withdrawal of melflufen and panobinostat from the market, and the limited use of venetoclax.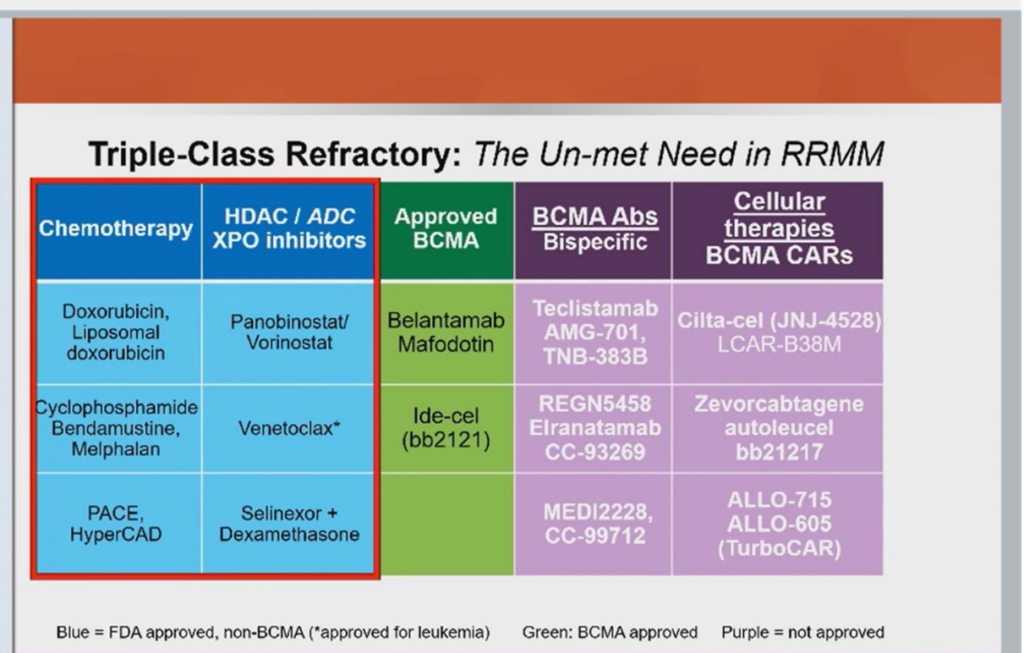 The Unmet Needs of Triple Refractor Myeloma Patients
And finally, Dr. S. Vincent Rajkumar of the Mayo Clinic unveiled his "Treatment Algorithm for 2020". This algorithm embraces the principle of triplet preference, including at least two new drugs (not sure just drugs or if feasible drug classes), consideration of transplant in patients eligible for transplant. He said, "My preference is for people not to use this algorithm and urge patients to sign up to clinical trials."
During this symposium, I heard the phrases
Flattening of the curve (the survival curve)
Long treatment-free interval (drug holidays)
Ease of administration (at home and subcutaneous administration, treatment intervals of >2 weeks)
Fewer side effects
There was an acknowledgment by the group that more needs to be done to bridge the gap between what the on-the-ground country by country reality is and the potential these new drugs offer.
The IMF teams will be busy at ASH and will be facilitating either virtual or hybrid meetings:
Yelak 
Sharing The Hope! 
Yelak Biru, on Twitter: @NorthTxMSG