Today's blog will be my last #IMFASH21 blog. As I gather my thoughts after the exhausting but inspirational ASH program, I find myself filled with deep gratitude for research, resources, and the friendships formed along the way.
Research
ASH is filled with the best of the best research in all hematological cancers. There were 879 myeloma-related abstracts at ASH this year. Thank you, researchers! I remember when we first started going to ASH in the early 2000s, there was only a one-page listing of myeloma abstracts presented.
The IMF is developing the first definitive cure for myeloma. Led by the world's foremost multiple myeloma experts, the Black Swan Research Initiative (BSRI) is pioneering the way for discovery.
Resources
The IMF has numerous educational programs and resources that surround ASH that I'd like to ensure you have all the links to. If you were not able to participate on the live programs, below are all the replays. Learn and feel the hope for our futures!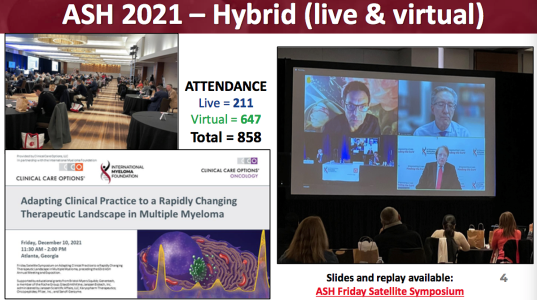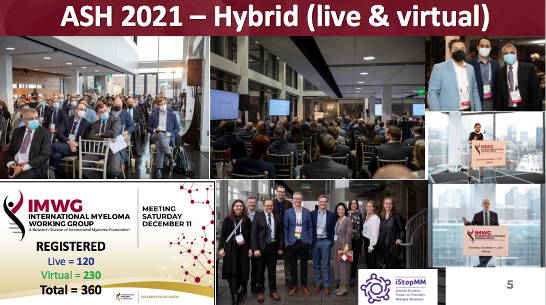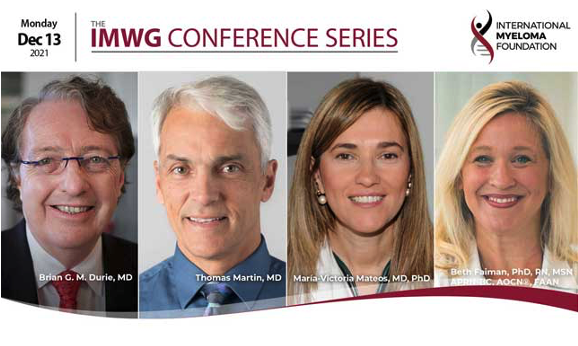 Friendships
When my husband, Michael was diagnosed in 2000, the word "gratitude" was not on the tip of my tongue. However, over the years, we've seen many silver linings and layers of goodness. Since I began working for the IMF in 2005, it's been my great pleasure to work with and to form many wonderful friendships in the myeloma community: the IMF staff, myeloma doctors, researchers, nurses, pharmaceutical/healthcare folks, and so very many cherished myeloma support group leaders, patients, and care partners.
This year's #IMFASH21 Team has been exceptional. Every year, the team becomes connected like a family. These bonds will forever keep us together in spirit and friendship. To Jack Aiello, Sheri Baker, Yelak Biru, Becky Bosley, Jessie Daw, John Deflice, Linda Huguelet, Sue Massey, Teresa Miceli, Gail McCray, Michael Tuohy, and Jill Zitzewitz — I am grateful for your care, compassion, and dedication, but mostly your friendship. Thank you for being on the Team and for taking your time to help others.
Wishing you Good Health, Peace, Love, and Laughter in the New Year and Always.
Robin Tuohy, on Twitter @IMFsupport