Before ASH even started, there were many educational Satellite Symposiums taking place. The IMF's program is CME-certified and available online (Adapting Clinical Practice to a Rapidly Changing Therapeutic Landscape in Multiple Myeloma). This program is one bookend of ASH, with the other being the IMF's Best of ASH annual webinar.
This year, the IMF held the usual Best of ASH for everyone to register for free and participate in —with a live Q&A with IMF Chairman of the Board Dr. Brian G.M. Durie. Additionally, the IMF Support Group Leaders had a special Zoom room gathering where all the leaders were invited to join and watch the webinar and have an additional Q&A with Dr. Durie.  
Questions ranged from discussion on novel agents and how they are changing treatment for high-risk patients, smoldering multiple myeloma (SMM) and high-risk smoldering multiple myeloma (HRSMM) trials, newly diagnosed multiple myeloma (NDMM) patients and 4 drugs upfront (use the best treatment option available at each stage) and of course, CAR T and bispecifics in relapsed/refractory multiple myeloma (RRMM) and potentially upfront for even better responses.
Dr. Durie presented the highlights from ASH, including six iStopMM (Iceland Screens, Treats, or Prevents Multiple Myeloma) ASH Abstracts, consisting of 4 oral presentations and 2 posters. I'm excited for all the results from this important research, and I am looking forward to additional updates instead of using serum protein electrophoresis (SPEP), or mass spectrometry to measure the myeloma protein as it is so much more sensitive and showing deeper levels of minimal residual disease (MRD) negativity, even at the 10-5 and 10-6!
I look forward to how this will be interpreted for treatment decisions in the real world. Another focus I'm watching for is information on DNA genetic sequencing to help determine genetic features that predispose to monoclonal gammopathy of undetermined significance (MGUS) and progression to myeloma.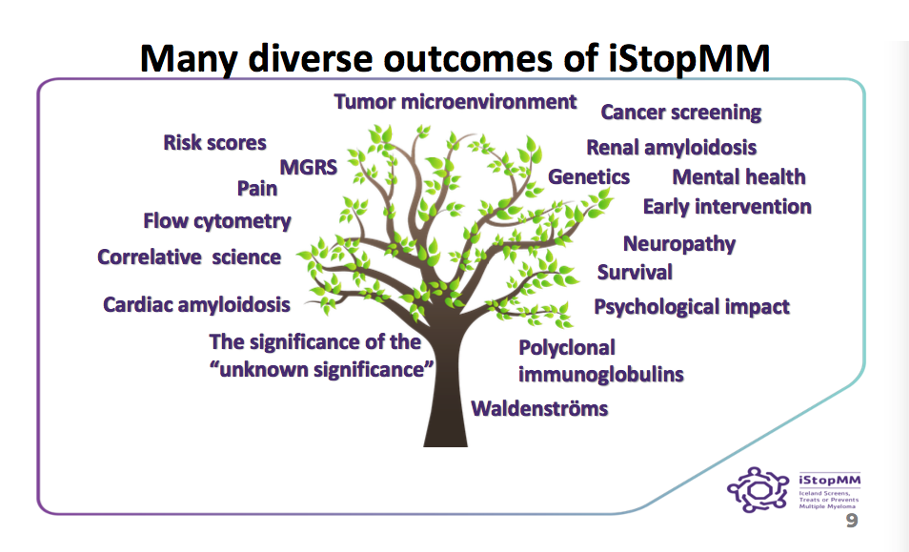 When we had the opportunity to be in Iceland to listen to iStopMM updates in 2018 and 2019, the iStopMM team shared insights into the tree; there were a couple that stood out to me:
Flow Cytometry – The iStopMM study is employing Next Generation Flow (NGF) cytometry in the care of individuals with MGUS and those who are diagnosed with SMM and MM. The aim is to be able to use this emerging technology to identify those who will progress to active disease so that their follow-up and treatment can be tailored to them in the future. NGF also gives insights into tumor microenvironment, the cells around the myeloma cells that nurture and support them. Learning more about this crucial part of myeloma development might open the door to new ways of treating or preventing myeloma in the future.
Psychological impact of cancer screening – A part of the iStopMM project is to do deep analysis into the psychological effects of screening for MGUS and how knowing about precursor conditions (that, in most cases, is otherwise harmless) will affect mental health. This information is highly relevant for other cancer screening programs as well.
COVID-19 – The iStopMM team just published a paper using iStopMM data and "created a new branch of the tree" to answer pressing questions for individuals with MGUS —there is no increased COVID-19 severity with MGUS (Abstract #154)
On last night's Q&A with Dr. Durie and leaders, Dr. Durie stated that Iceland may be a place where we can either prevent or even cure myeloma! Thanks to all the Icelanders for participating in the iStopMM trials!
Of course, we all continue to be excited about CAR T therapy, and as Jack Aiello stated in his blog, "Which CAR to Hitch a Ride with?" Well, CARTITUDE-1 (cilta-cel) continues to impress with excellent Overall Response Rate (ORR) of 97.9% and even more encouraging is the stringent Complete Response (sCR) Median 1-year follow up: 67 and actually deepened over time; Median 2-year follow up 83! (Abstract #549) Remember, these are patients that have been heavily pre-treated. Imagine what the results may be if used upfront in NDMM?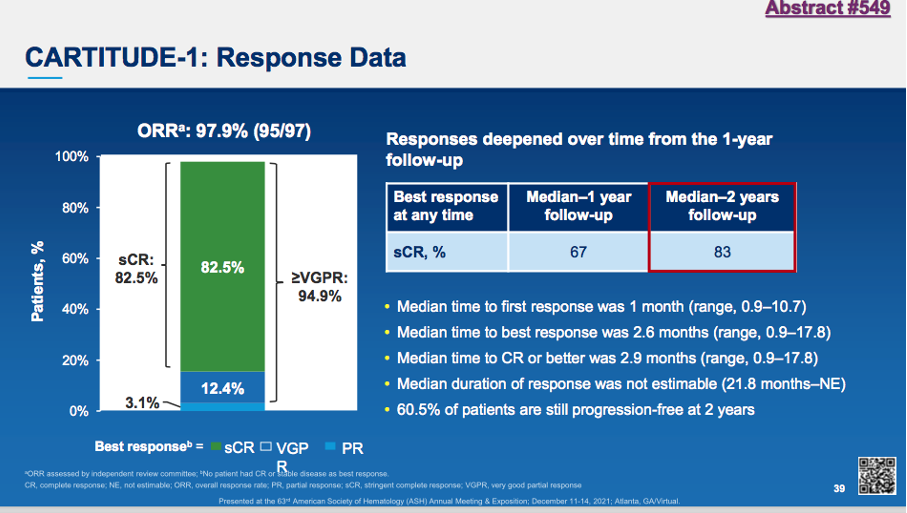 As #ASH21 comes to a close, the research continues on. So, keep on keepin' on and look to the future with hope and share that hope with others. We're all in this together.
Thanks to the IMF for being the first to bring myeloma patients/support group leaders to ASH. It's an honor and privilege to be a part of the Team. Thanks to all the sponsors for supporting this valuable opportunity: BMS, Karyopharm, and Takeda Oncology.
My last song to share with you from #IMFASH21 is "End of the Line" by The Traveling Wilburys.
Fun fact: The name "Wilbury" was conceived in 1987 while Jeff Lynne was producing George Harrison's "Cloud Nine" album. Whenever there was a mistake, Harrison would tell Lynne, "That's okay, WE'LL just BURY it in the mix …"
Michael Tuohy, on Twitter: @IMFmikeMYELOMA