The diagnosis of multiple myeloma is just that — "multiple." There are so many manifestations of this one diagnosis that you could have 10 people with multiple myeloma in a room and you could hear 10 different versions of their diagnosis and treatment.
Modern treatment options continue to improve progression free survival (PFS) and overall survival (OS). This was nicely reviewed by Dr. Bharat Nandakumar (Mayo Clinic —Rochester, MN) in his Paper Number: 119: Mortality Trends in Multiple Myeloma after the Introduction of Novel Therapies in the United States
All patients with multiple myeloma (MM) diagnosed between January 1, 2004 and December 31, 2018 seen at MAYO and followed in SEER (18 registry research data 2000-2018, November 2020 submission) were included in the study.
Patients were grouped into three 5-year groups based on the year of diagnosis:
2004-2008
2009-2013
2014-2018
For the estimation of relative survival, patients alive at the end of 2019 were censored to align with the published United States general population rate tables.
Overall survival (OS) estimates were calculated by Kaplan and Meier method.
Steady improvement in OS in both populations with time.
Steady decrease in early mortality in both populations with time.
Improvements in survival across all risk groups with time.
Older patients (>65 years) with favorable disease characteristics experienced survival outcomes comparable to US general population – 'Functional cure.'
Are patients seen in community settings lacking behind in the adoption of available therapies or lack access to them?
However, effective treatment options remain very limited for high-risk variants (HRV) of myeloma such as extramedullary disease (EMD), especially with organ manifestation, and 1q+ and 1q amplification. There is increasing interest in addressing this unmet need. I will share a few of the abstracts that looked at these HRVs.
Paper No: 485: Characteristics and Outcomes of Newly Diagnosed Multiple Myeloma Patients with and without Extramedullary Disease after Autologous Transplant and Maintenance Therapy: A Study from the Cmwp-EBMT. Dr. Nico Gagelmann (University Medical Center Hamburg-Eppendorf — Hamburg, Germany)
EMD is when myeloma cells develop in tissues outside of the bone marrow and can happen at diagnosis or as part of relapse/progression. EMD is less common in IgA MM, but more common in ISS (International Staging System) Stage III. Use of post-transplant maintenance was the focus for this subgroup analysis. In short, PFS and OS was shorter in this subgroup of organ involved EMD regardless of choice of maintenance with thalidomide, lenalidomide or bortezomib.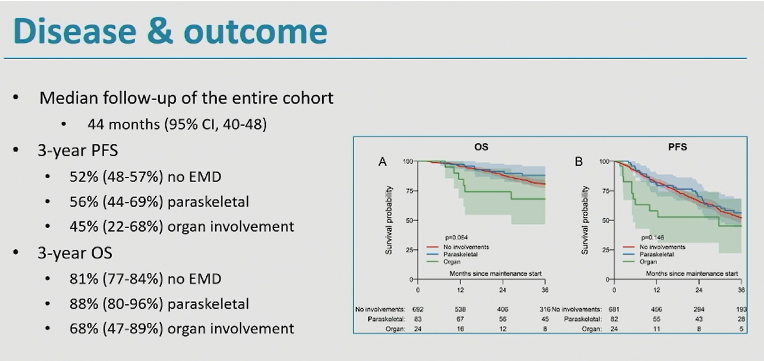 The effects of the addition of daratumumab are yet to be analyzed. EMD, especially organ involved, remains an area of unmet need where further investigation into effective therapies for PFS and OS is needed.
Paper No: 467: Impact of Chromosome 1 Abnormalities Among Patients with Newly Diagnosed Multiple Myeloma: A Subgroup Analysis from the Endurance (ECOG-ACRIN E1A11) Trial, Dr. Timothy M. Schmidt (University of Wisconsin —Madison, WI)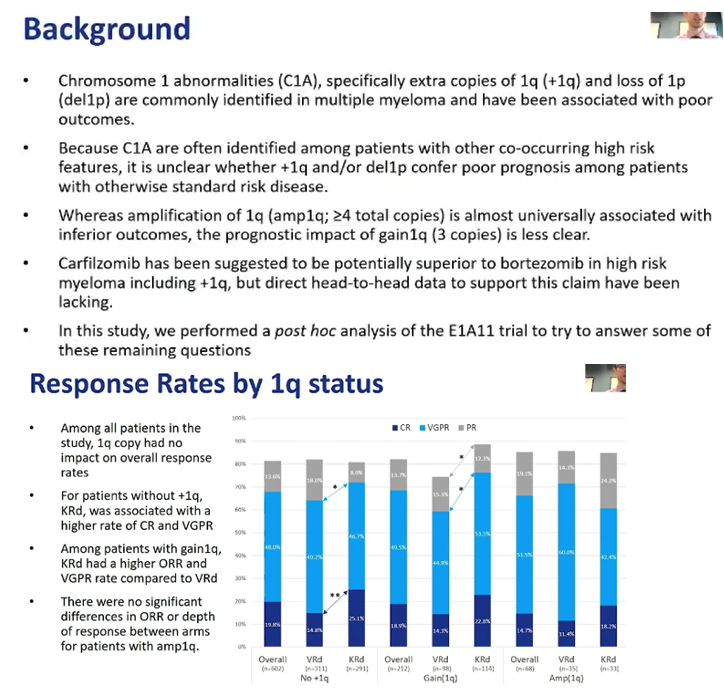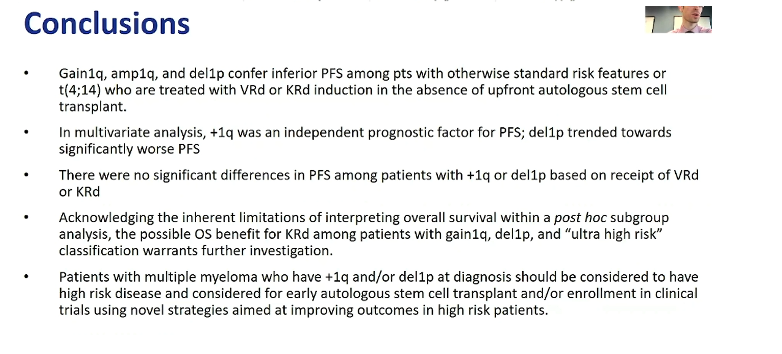 77 In Multiple Myeloma, High-Risk Secondary Genetic Events Observed at Relapse Are Present from the Diagnosis in Tiny Undetectable Subclones – Herve Avet-Loiseau, MD, PhD, (Universite Paul Sabatier —Toulouse, France)
Dr. Avet-Loiseau asked the following questions: Are abnormal clones present earlier than currently identified? Do these minor subclones impact clinical evolution?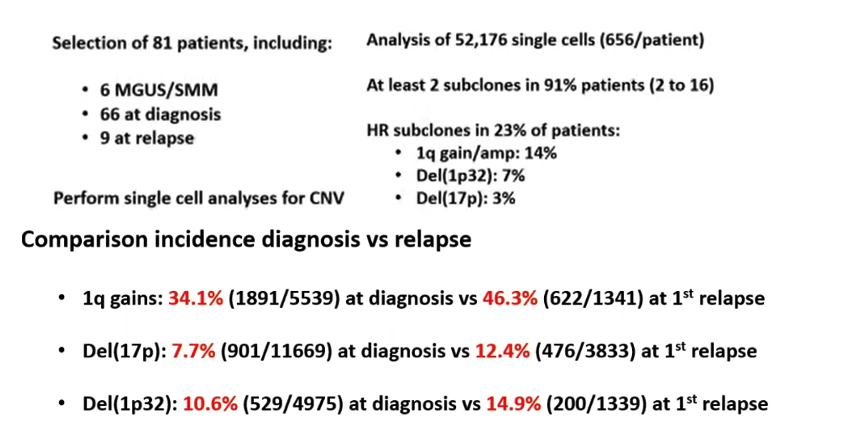 The progression free survival (PFS) and overall survival (OS) were essentially the same for those who did not present but had 1q+ at time of relapse. It is believed this subclone already had an impact on outcome. The significance is that we need to look for this subclone at time of diagnosis to address proper therapy at time of diagnosis.
There are many unmet needs in myeloma therapy. These HRVs are just a couple. Having "extra"-medullary disease or "extra" copies of chromosome 1 are not favorable.
Each year I attend the ASH meeting, I am inspired and thankful there are so many scientists and clinicians that work extra hard to improve diagnostic testing, develop new drugs and combinations of therapies. In this respect, "extra" is important.
I want to send an "extra" thank you to the researchers, the research coordinators, the clinicians, and the patients for their "extra" contribution that will help us one day find a cure for myeloma. Without the "extra" effort by so many, we would not be where we are today in improving survival. But we are not done, and we need to go the "extra" mile(s) to get there.
Until next year, when we learn the newest updates at the 64th annual American Society of Hematology meeting, please stay safe, stay hopeful and be good to yourself and others.
Teresa Miceli, on Twitter @IMFnurseMYELOMA