"You have power over your mind – not outside events. Realize this, and you will find your strength."—Marcus Aurelius, Meditations
As the 63rd annual meeting of the American Society of Hematology (ASH) wrapped up this week, I am looking to the future with hope and excitement. I admit my brain is a bit tired from trying to process all the technical data, but I am trying to have power over my mind!
Since I have relapsed twice in my 10 years of living with multiple myeloma, I tend to be very interested in any studies or information pertaining to my options at relapse. This chart shows that there are many options and combinations available.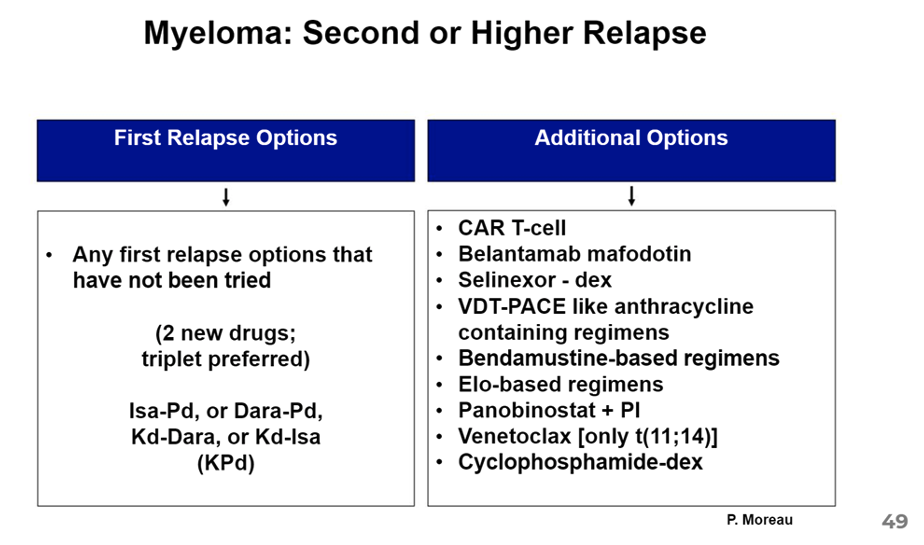 This year's ASH had many updates on key clinical trials. Many of the trials were for heavily pre-treated patients who are running out of options.  My other teammates have summarized this information better than I could.  However, there was one presentation by Dr. Thomas Martin (UCSF Helen Diller Family Comprehensive Cancer Center – San Francisco, CA) with an update on the CARTITUDE-1 trial that got my attention. This is a study of a B cell maturation antigen (BCMA) directed CAR T-cell therapy called Ciltacabtagene autoleucel (cilta-cel) for heavily pre-treated, relapsed/refractory multiple myeloma patients.  When Dr. Martin took the stage, you could see the excitement in his face.  He was excited to present the data but more importantly, I think he was happy to be there, presenting to his colleagues who were able to attend in-person.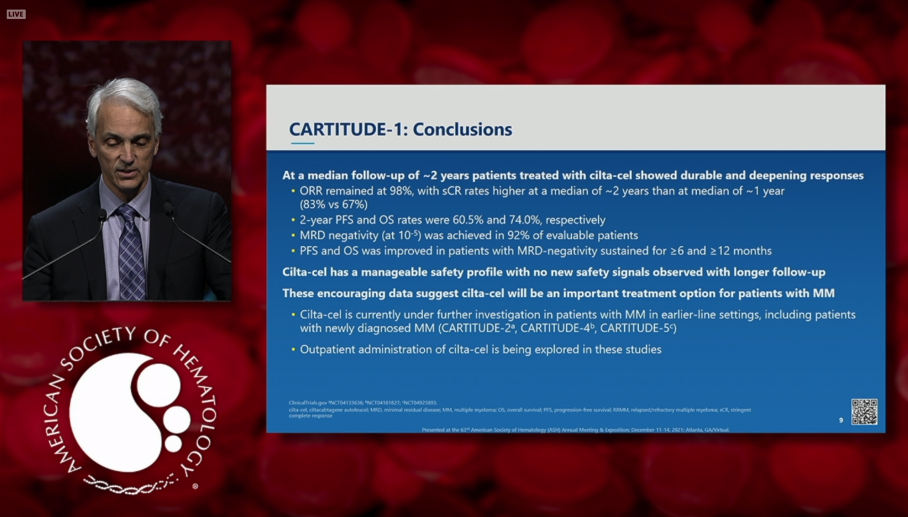 At the International Myeloma Foundation (IMF) Best of ASH presentation, Dr. Brian G.M. Durie (IMF Chairman of the Board) commented that cilta-cel could have FDA approval by the first or second quarter of 2022.  
Last year's ASH was all virtual.  I watched everyone make their presentations virtually.  And it is just not the same.  Even though we were virtual this year, you could sense the excitement from those who were there in-person during their presentations in front of colleagues. 
For those able to attend this year's ASH in-person, it must have seemed like a family reunion. So many doctors tweeting out pictures with friends or colleagues whom they haven't seen in 2 years. And all these myeloma doctors and researchers from all over the world work so hard to find ways to treat and hopefully, cure multiple myeloma one day. I am in awe of what they do, and I am deeply grateful for their dedication.
Finally, I was amazed by the Support Group Leaders' participation in the International Myeloma Foundation's (IMF) ASH team this year. As I go back and read their blogs, I was amazed at the diversity of the topics. I urge you to take some time to read their blogs. They are all so very interesting, and all from a slightly different point of view. That's what makes us a great team!
Stay well and stay strong!
Sheri Baker, on Twitter @blondie1746