There are so many amazing programs available to attend at the American Society of Hematology (#ASH21) meeting. Scientific and Clinical Education spotlights, award ceremonies, poster and oral abstracts covering everything from "bench to bedside," and beyond. Many of the sessions of interest overlap, historically making it a challenge to choose which session to attend. The virtual/hybrid model is quite handy, as it allows for people to go back and view sessions they missed.
For good reason, there is much reporting on studies looking at drug development and updates in combination therapy in myeloma. I will be reporting on some of these in my next blog. However, for this blog, I want to focus on some of the sessions not frequented based on title or content, but for some of the readers, the information may be quite relevant.
There was a presentation on Sunday, December 12, by Dr. Jason Valent (Cleveland Clinic —Cleveland, OH) in the 653 session: Myeloma and Plasma Cell Dyscrasias: Clinical-Prospective Therapeutic Trials; treatment of NDMM and amyloidosis patients. The topic of interest was a drug in development for light chain amyloidosis (AL). The current available treatment approach is to stop the production of light chains that deposit into tissue by using chemo- and immuno- therapy to prevent further tissue damage.
However, this does not remove the deposits and damage already created. This monoclonal antibody targets fibrils already deposited, binds to a neo-epitope — leading to the removal of fibril deposition. It's VERY exciting to take a dual approach to treating this nasty plasma cell disorder. Dr. Valent valiantly expressed that this monoclonal antibody is "incredibly safe" – the cardiac safety profile was exceptional, and the addition of dara did not alter pharmacokinetics of CAEL-101.
468 Safety and Tolerability of CAEL-101 in Combination with Anti-Plasma Cell Dyscrasia Therapy in Patients with AL Amyloidosis: 1-Year Results from an Open-Label Phase II Trial (Dr. Jason Valent, Cleveland Clinic)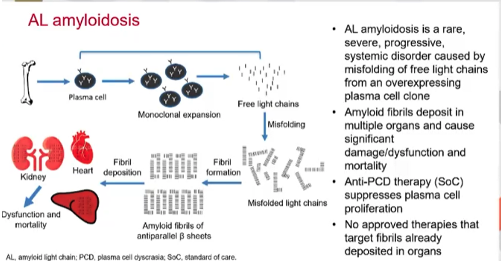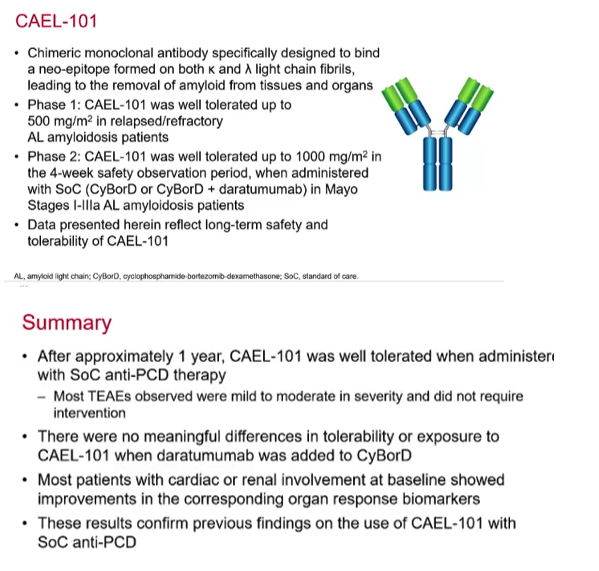 On Monday, December 13, there were two presentations in the 902. Health Services Research—Lymphoid Malignancies: Cost of Care & Cost Effectiveness session that really caught my attention. They both have the potential for "real-clinic" impact, both in saving money and patient time.
Paper Number: 665 Trends in Utilization of Stored Cryopreserved Autologous Peripheral Hematopoietic Cells (APBHC) Intended for a Second (or beyond) Autologous Hematopoietic Cell Transplantation (AHCT) in Patients with Multiple Myeloma (MM): A Single Center Experience presented by Dr. Farah Yassine, MD,MSc (Mayo Clinic — Jacksonville, Florida)
Dr. Yassine did a retrospective review of cryopreserved (stored) stem cell collection usage at Mayo Clinic-Florida from 2010 to 2019. Nearly 92% of patients who underwent stem cell collection and first transplant had cells in storage for a possible second transplant.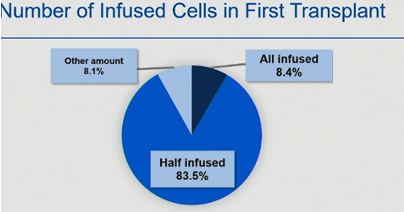 However, usage for a 2nd transplant has continually decreased.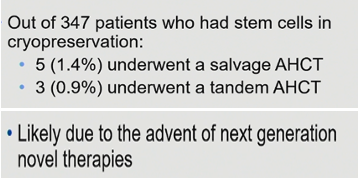 The financial and time expenditure for cryopreserved cells was estimated.
There was a good discussion following this presentation. It was noted that this is one center's analysis for cost, and that the cost of prolonged storage is absorbed by the medical institution.
In the era of CAR T therapy and related cytopenias, stored stem cells may have greater utilization. However, as CAR T moves earlier in the treatment sequence, cytopenias may not be as much of an issue.

Again, it was noted, this is discussing stem cell storage for a second (salvage) transplant, not a delayed or planned tandem transplant. Likely, only one transplant will ever be performed and additional collection for multiple delayed transplants is not needed. This has potential for time and cost savings.
This was followed by Paper Number 666: Decreasing Costs and Clinic Wait Time While Maintaining Safety for Patients Receiving Lenalidomide, Bortezomib, and Dexamethasone (RVD) for Multiple Myeloma, presented by Eno Inyang, PharmD (Dana-Farber Cancer Center — Boston, MA).
For those of you who have received VELCADE® (bortezomib), REVLIMID® (lenalidomide) and dexamethasone (VRd) therapy, you are familiar with the weekly (or twice a week) routine – go to the lab, wait to be called; get blood drawn, wait for results; go to infusion center, hope the results have been received and reviewed; then finally, get your Velcade injection. And how often do those results impact your ability to get your Velcade injection, and what cost (time/money) is this to you? This study looked at exactly these concepts: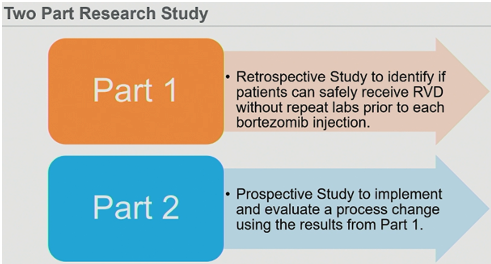 It is well-known that people can experience decreased neutrophils in absolute neutrophil count (ANC) and platelets from VRd therapy. However, if patients had ANC>1,000 and Platelet count >75,000 on Day 1 of their cycle, additional labs prior to each dose were not needed, and would be checked with Day 1 of subsequent cycles.

They went on to validate their findings by implementing a workflow in their clinic.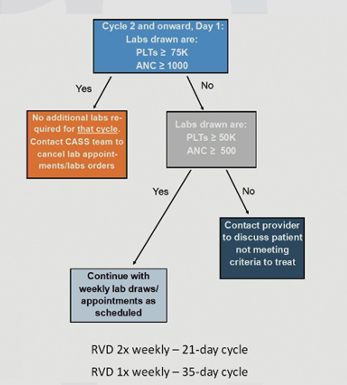 Time saved – patients spend >50% of their time in clinic waiting for labs: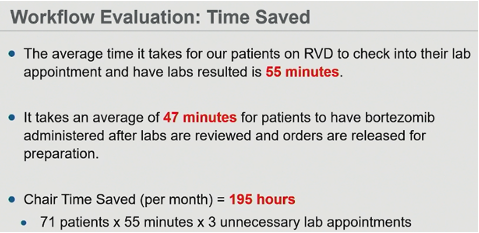 Money saved – the cost of the lab services and blood processing: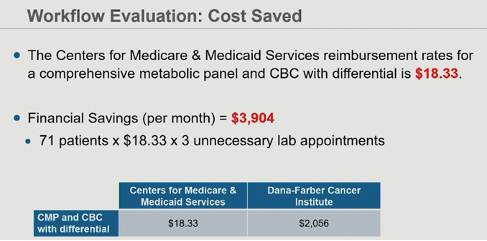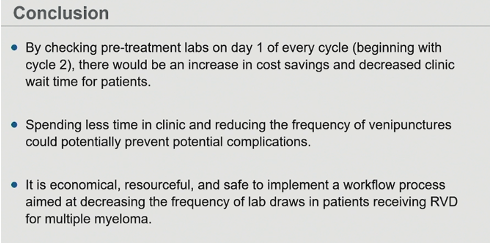 The discussion was, again, very robust after this presentation. This has real implications for time and cost savings for so many. However, as daratumumab becomes more incorporated into frontline therapy (Abstract #79: GRIFFIN Trial, Dara+VRd, presented by Dr. Jacob Laubach, Dana-Farber Cancer Institute — Boston, MA), additional analysis will be needed.
I continue to sift through the wealth of information provided at the 63rd annual ASH meeting. As discussed in my Pre-ASH blog, I want to review the "one-off" aspects of myeloma (such as high-risk components and extramedullary disease) and capture these in my next post.
Thanks for reading. Please follow me and the other support group leaders on social media.
Teresa Miceli, RN BSN OCN
Myeloma Nurse Navigator,
Mayo Clinic – Rochester
IMF Nurse Leadership Board
Rochester MMSS, Facilitator

Teresa Miceli, on Twitter @IMFnurseMYELOMA