I was going to write something insightful – my biggest takeaways – from the last two days of the 63rd annual meeting of the American Society of Hematology (ASH) meeting. I started saying that:
the MASTER trial was very patient-centric; it had over 23% African Americans enrolled in the trial, the MRD response adopted treatment secession strategy is innovative, the trial enrollment was enriched and powered for high-risk patients, and the MASTER-2 trial design is future-looking, the result of 
the GRIFFIN trial could be setting quadruplet (dara-RVd) standard of care for high-risk patients in those countries where dara is approved and can afford it
the near 100% ORR, deepening stringent complete response (sCR) at year 2, results of CARTITUDE-1 are going to be game-changing and an indicator that myeloma has indeed entered the era of immunotherapy 
the OPTIMUM data showed the benefit of adding a CD38 to a quadruplet for those prospectively identified as having ultra high-risk disease by gene expression profile (GEP) 
Then I said, what were the drugs in the GRIFFIN trial again, and what are the randomization criteria for those trials with one? That is when I pivoted to collecting the trial design in one place for some of the clinical trials presented or referenced at #ASH21. Below is a non-exhaustive list of trial designs for us clinical trial mortals. In no particular order:
OPTIMUM [Daratumumab, Cyclophosphamide, Bortezomib, Lenalidomide, Dexamethasone (Dara-CVRd), V-Augmented Autologous Stem Cell Transplant (V-ASCT) and Dara-Vrd Consolidation in Ultra-High Risk (UHiR) Newly Diagnosed Myeloma (NDMM) and Primary Plasma Cell Leukemia (pPCL) Compared with Myeloma XI/XI+ Trial Treatment for Uhir MM: The UK Optimum/Muknine Trial (Clinically Relevant Abstract)]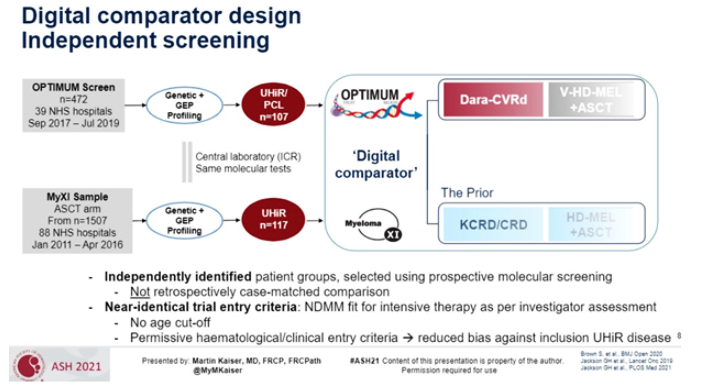 MASTER [Daratumumab, Carfilzomib, Lenalidomide, and Dexamethasone (Dara-KRd), Autologous Transplantation and MRD Response-Adapted Consolidation and Treatment Cessation. Final Primary Endpoint Analysis of the Master Trial]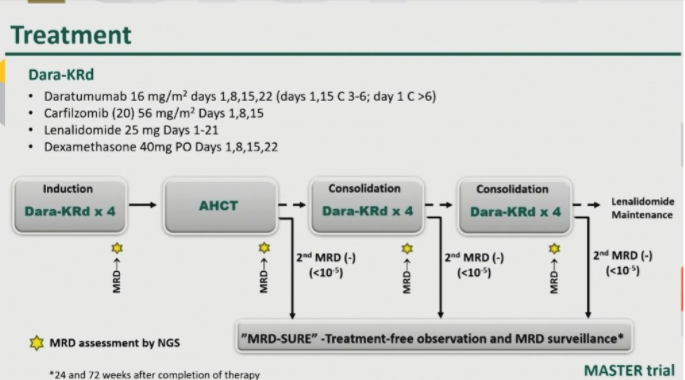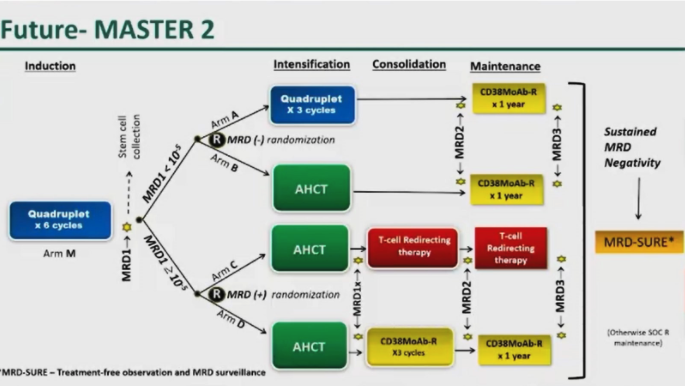 CASSIOPEIA [Daratumumab (DARA) with Bortezomib, Thalidomide, and Dexamethasone (VTd) in Transplant-Eligible Patients (Pts) with Newly Diagnosed Multiple Myeloma (NDMM): Analysis of Minimal Residual Disease (MRD) Negativity in Cassiopeia Part 1 and Part 2]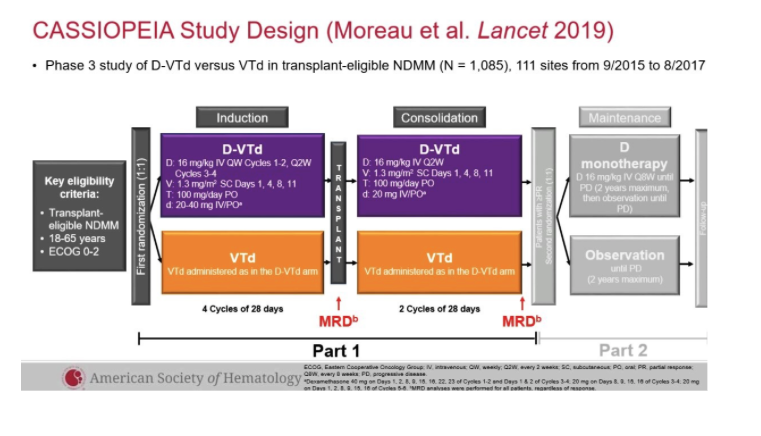 MAIA [Daratumumab, lenalidomide, and dexamethasone versus lenalidomide and dexamethasone alone in newly diagnosed multiple myeloma (MAIA): a randomized, open-label, phase 3 trial]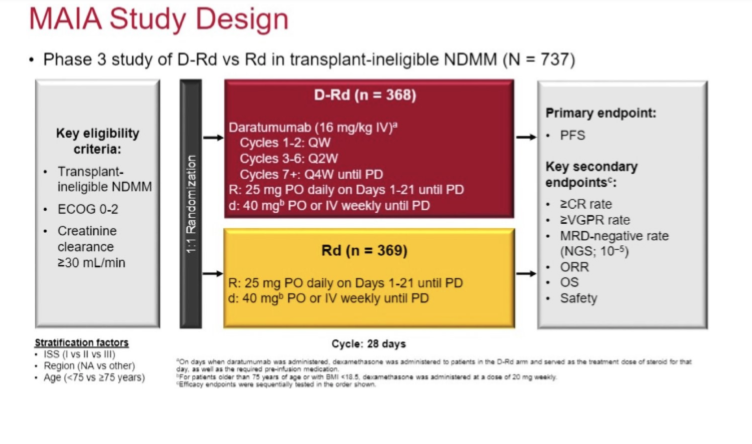 Forte [Evaluation of the Safety and the Efficacy of Carfilzomib Combined With Cyclophosphamide and Dexamethasone (CCyd) or Lenalidomide and Dex (CRd) Followed by Autologous Stem Cell Transplant (ASCT) or 12 Cycles of Carf Combined With Dex and Len for Patients Eligible for ASCT With Newly Diagnosed Multiple Myeloma]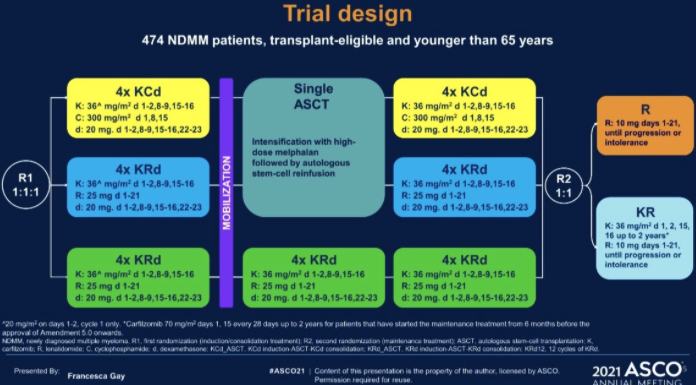 GRIFFIN [Study Comparing Daratumumab, Lenalidomide, Bortezomib, and Dexamethasone (D-RVd) Versus Lenalidomide, Bortezomib, and Dexamethasone (RVd) in Subjects With Newly Diagnosed Multiple Myeloma]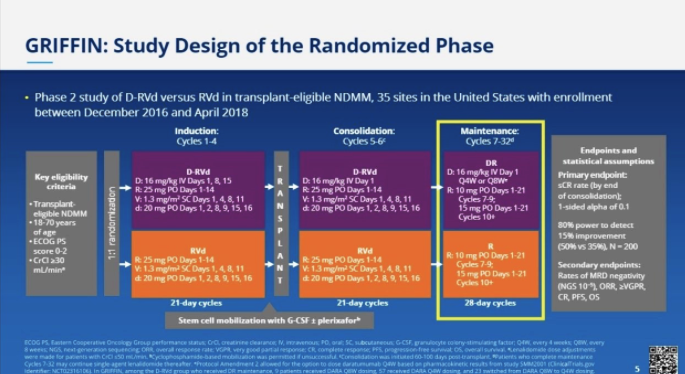 GMMG-HD6 A Phase III Trial on the Effect of Elotuzumab in VRD Induction /Consolidation and Lenalidomide Maintenance in Patients With Newly Diagnosed Myeloma (GMMG-HD6)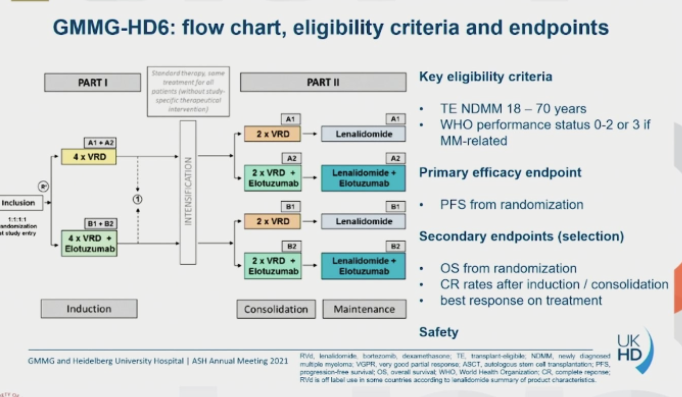 GMMG-HD7 Trial on the Effect of Isatuximab to Lenaliodomide/Bortezomib/Dexamethasone (RVd) Induction and Lenalidomide Maintenance in Patients With Newly Diagnosed Myeloma (GMMG HD7)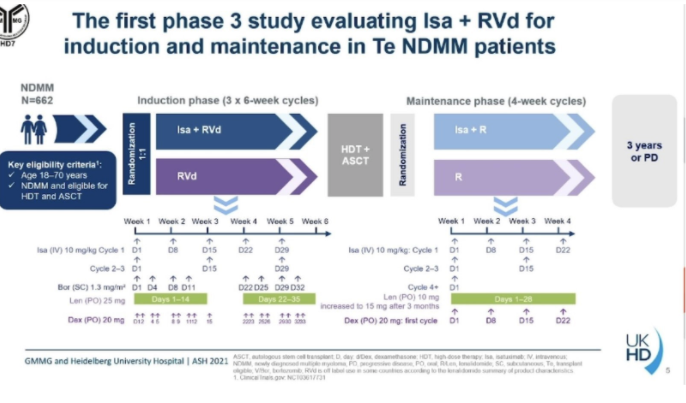 CARTITUDE-1 A Study of JNJ-68284528, a Chimeric Antigen Receptor T Cell (CAR T) Therapy Directed Against B-Cell Maturation Antigen (BCMA) in Participants With Relapsed or Refractory Multiple Myeloma. Please note there are now CARTITUDE-2, 3, 4, and 5 in progress. You can read about them at clinicaltrial.gov site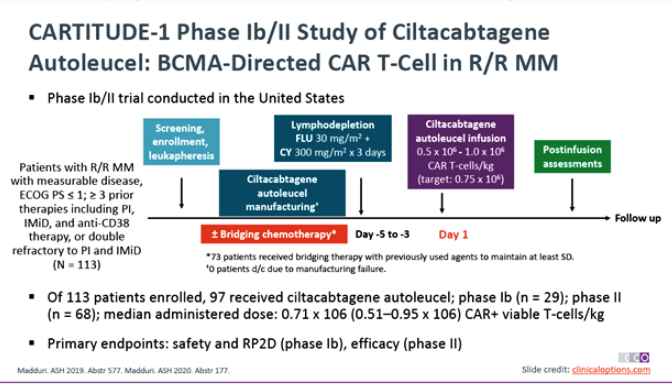 CC-220-MM-001 [Iberdomide (IBER) in Combination with Dexamethasone (DEX) in Patients (pts) with Relapsed/Refractory Multiple Myeloma (RRMM): Results from the Dose-Expansion Phase of the CC-220-MM-001 Trial]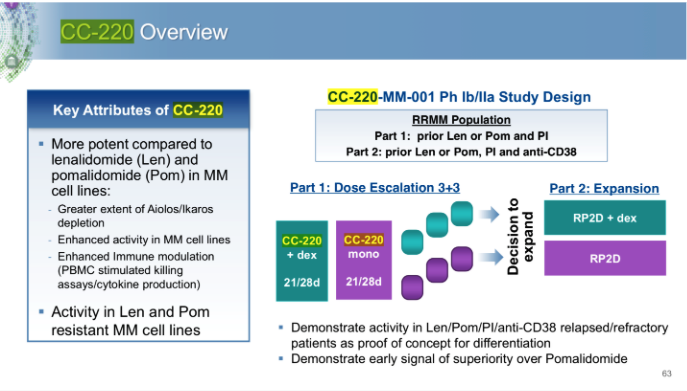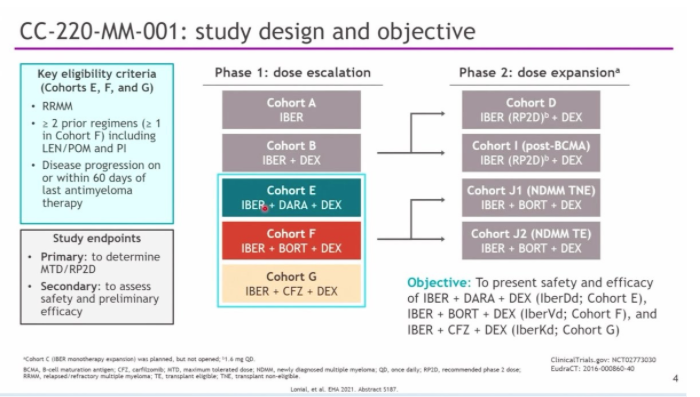 Bb21217 [Study CRB-402 a BCMA-Targeted CAR T Cell Therapy, bb21217 is a 2-part, non-randomized, open label, multi-site Phase 1 study of bb21217 in adults with relapsed/refractory multiple myeloma (MM). KarMMa is the bb2121-MM-001, the original bb2121 study]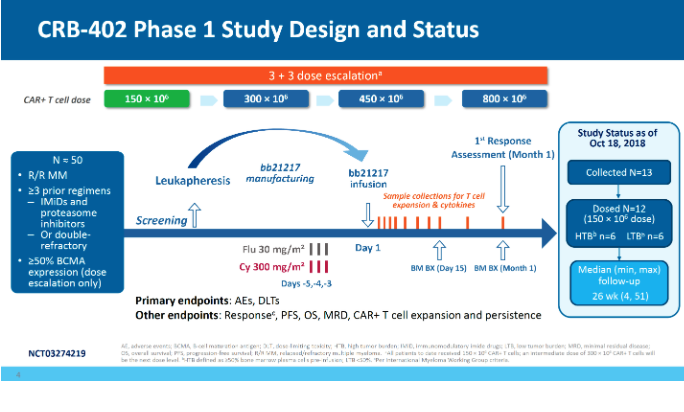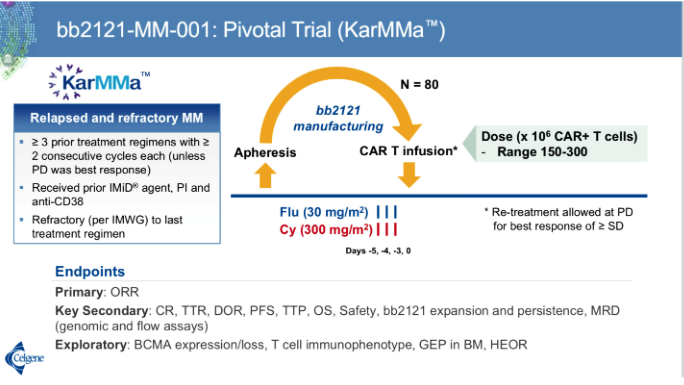 MajesTEC-1 (Phase 1/2 Study of Teclistamab, a B-Cell Maturation Antigen x CD3 Bispecific Antibody, in Relapsed/Refractory Multiple Myeloma)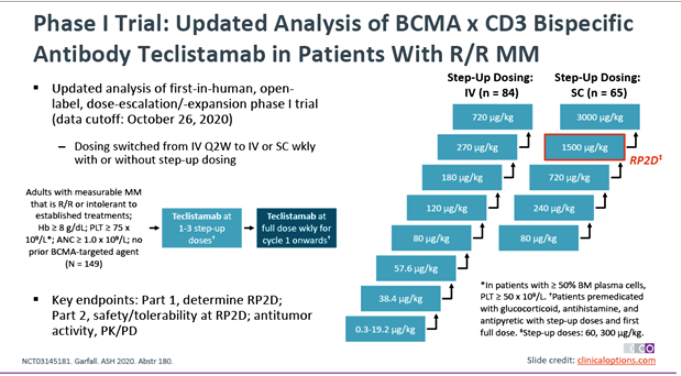 iStopMM [A Nationwide Phase 2 Trial of Patients With Smoldering and Active Multiple Myeloma (MM) (iStopMM)]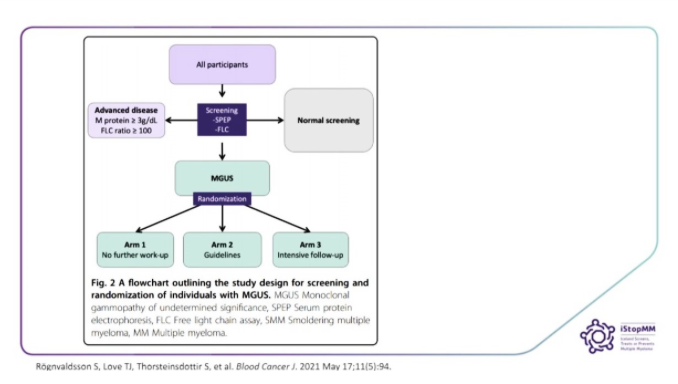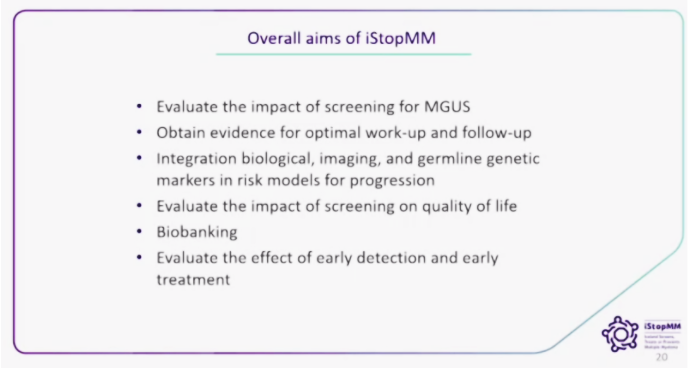 I hope this list of clinical trial design in one place will be helpful for patients, advocates, and those who don't always speak myeloma.
Sharing The Hope! 
Yelak Biru, on Twitter: @NorthTxMSG