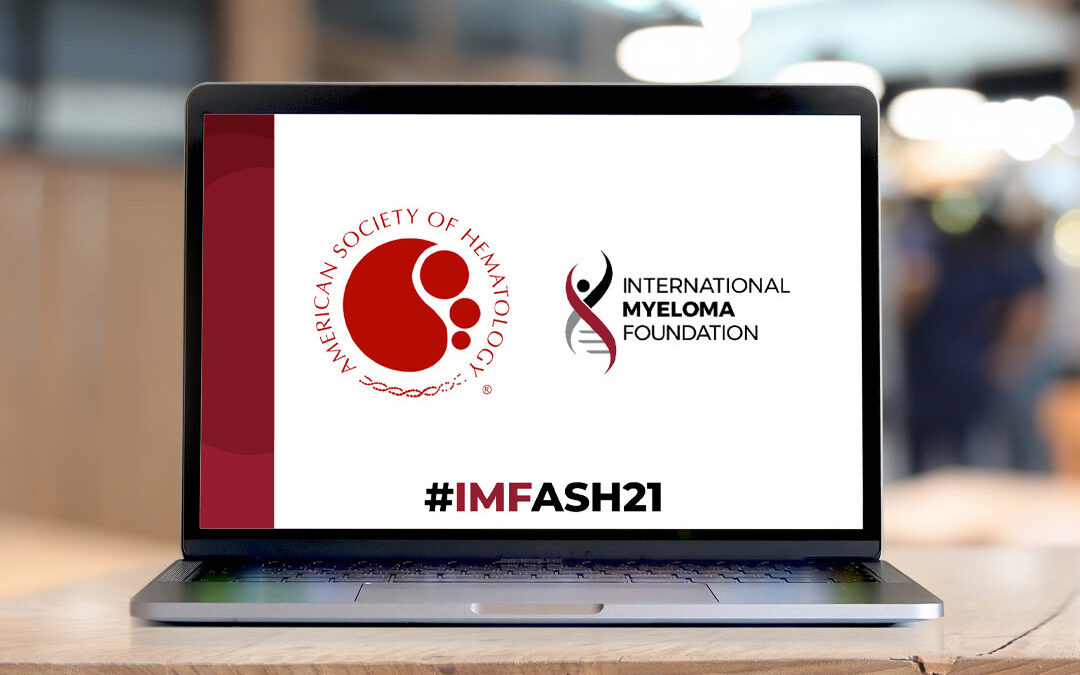 There is no other single conference where so much information is presented about myeloma. Information about so many topics is provided:  how to treat MM patients in various stages; results of phase II & III trials which may indicate upcoming FDA approvals; treatment considerations of MGUS and smoldering MM patients; pre-clinical research focusing on myeloma targets and cell understanding; and more.
This year, the 63rd American Society of Hematology (ASH) meeting will be a "hybrid" meeting (combination of in-person in Atlanta and virtual via Zoom). I'll be attending virtually which means that some of my meetings will start at 4am CA time (7am in Atlanta).
I'm so grateful to the International Myeloma Foundation (IMF) and their sponsors for registering me to attend, and I look forward to blogging about each day's highlights. Finally, I'll create a multi-page summary of the most interesting takeaways from my perspective and share this with my support group, post it on our website, and distribute to anyone else who requests it.
I attended my first ASH meeting 16 years ago and found it a bit like being diagnosed with myeloma 27 years ago. The terminology and amount of information was overwhelming. This was not surprising though, since the audience consisted of over 30,000 researchers and oncologists, who were learning the latest updates for all blood cancers, including myeloma.
I've learned to prepare a few weeks ahead of time and have already reviewed many of the myeloma abstracts while creating my personal agenda of talks that I wanted to view. These presentations are typically oral abstracts of clinical trial results, symposiums (case studies and various treatment considerations) and educational programs rather than biological lab studies.
Meetings I attend have more immediate value to patients undergoing treatment or to the newly diagnosed. By the way, you can also check out the abstracts (a summary of the planned presentations) by visiting www.hematology.org, although numerical details and conclusions of these abstracts are often updated during the actual presentations.
If you've been following new MM treatments the last few years, it's been mostly focused on immunotherapies (treatments which help your own immune system to fight myeloma). This year's ASH will have even more about mAb's (monocloncal antibodies), ADC's (Antibody Drug Conjugates), BiTEs (Bi-specific T-cell Engagers), and CAR-T therapies. I expect to hear updated trial results for all of these various therapies — in particular, BiTEs and CAR-Ts, and will be sharing this information with you.
I will be blogging every night during the Dec 10-13 ASH meeting and will be providing my takeaway highlights presented earlier that day. Along with several other patients/support group leaders the IMF brings to ASH, I look forward to sharing our experiences together via blogging and tweeting.
We hope to keep you well-informed through our individual patient perspectives. Of course, you'll have other vehicles to learn from about ASH in the weeks to follow, including webinars, telephone conferences, seminars, and more. Maybe your own oncologist will be at ASH. Take advantage of these resources and become your own best patient advocate. 
Jack Aiello, on Twitter @JackMAiello